Our DWC Monthly General Meetings are now in person! Join us the third Monday of the month at the Assateague Room in the Ocean Pines Community Center at 10AM.
In addition, members and those interested can keep current through the newsletter and our Facebook page.
Wondering where to begin?
The Democratic Women's Club of Worcester County (DWC) is pleased to announce a variety of resources and a scholarship for training programs designed to help those considering a run for office. A limited number of scholarships are available, and the office must represent part or all of Worcester County.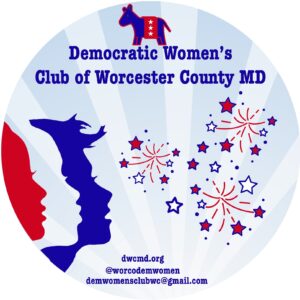 Mission Statement
Welcome to the Democratic Women's Club (DWC) of Worcester County, Maryland -- a dynamic, growing group united in supporting the causes and principles of the Democratic Party.  We welcome both full and part time residents of Worcester County and surrounding areas.  Typically, the club meets on the third Monday of each month (except July and August) at the Ocean Pines Community Center at 10 a.m.  Meetings include coffee and conversation at 9:30 a.m., followed by a speaker program with interesting educational topics, and a business meeting.
The goals of the Democratic Women's Club are to:
Provide a welcome, lively social environment for our members
Disseminate information about the Democratic Party
Encourage citizens to participate in the governmental process, and to vote at the local, state, and national levels
Provide information about Democratic candidates running for office and support and work for candidates representing the Democratic Party
Support community non-profit organizations
Provide educational and social activities
The DWC supports our community through efforts of our Kindness Council that works to coordinate charitable giving both among members and in coordination with other groups and to identify and support volunteer activities to benefit our community and its citizens.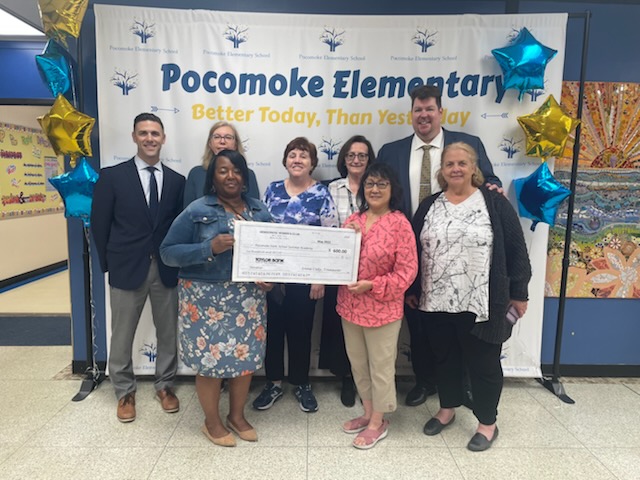 Recently, a check for $600 was presented to Pocomoke Elementary School on behalf of the Democratic Women's Club of Worcester County. The donation is in support of The school's Summer Academy.  PES is a Title 1 school where 60 percent of the students are from low-income families.
Photo:
Back row: PES Principal Joshua Hamborsky, Cherie McNett and Mary Anne Whitcomb (DWC), PES Assistant Principal Faye Williams, County Commissioner Josh Nordstrom.
Front Row: Laurie Brittingham, Susanna Eisenman and Joan Roache (DWC).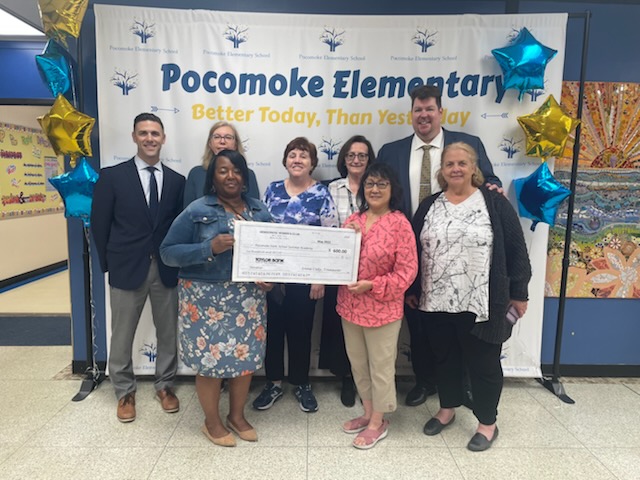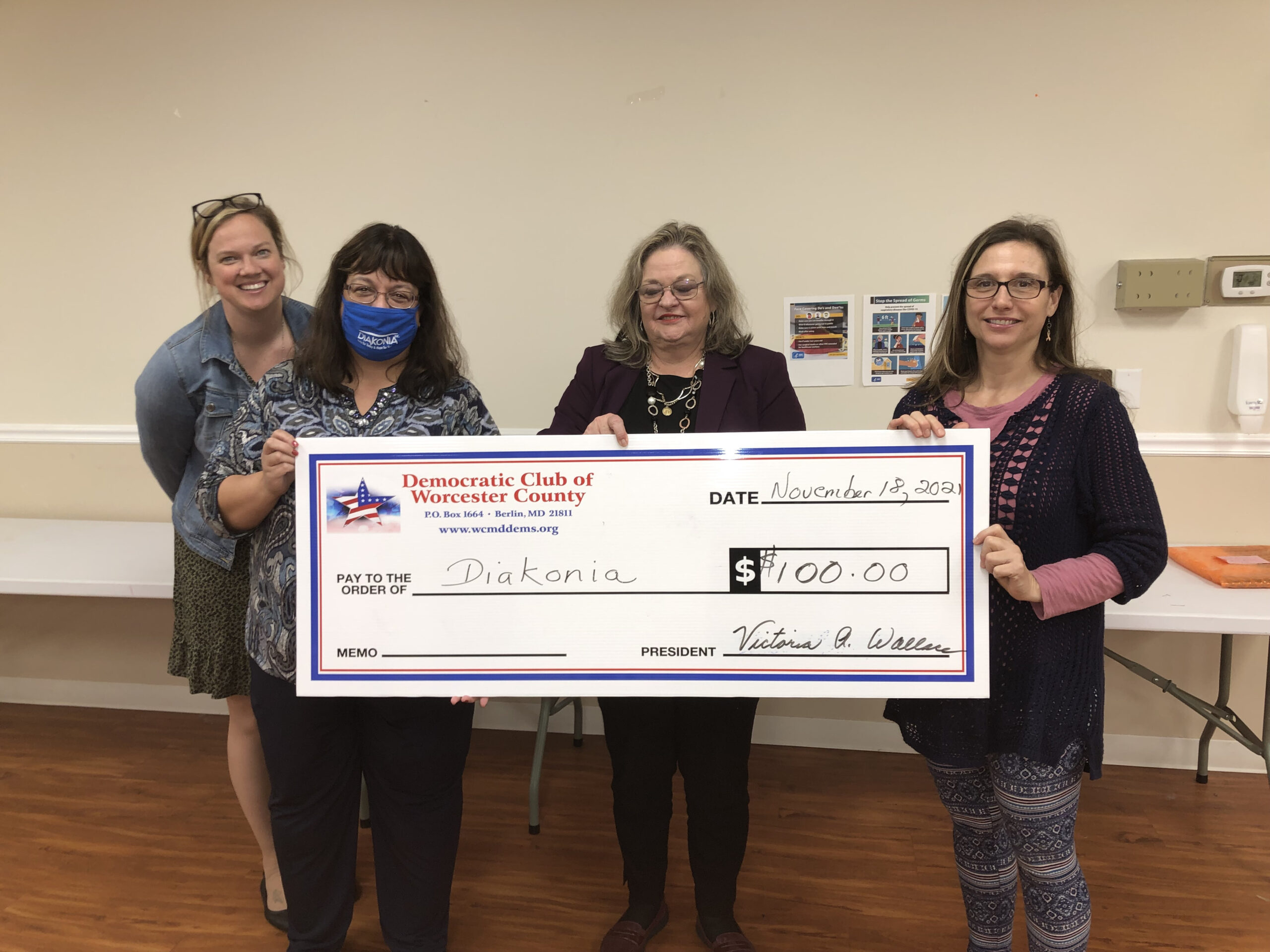 Pictured from left to right: Ashley Langmaid Director DIAKONIA Veterans Program, Bee Miller DIAKONIA Executive Director, Vicky Wallace DCWC President, Susan Blaney Food Pantry/Volunteer Coordinator.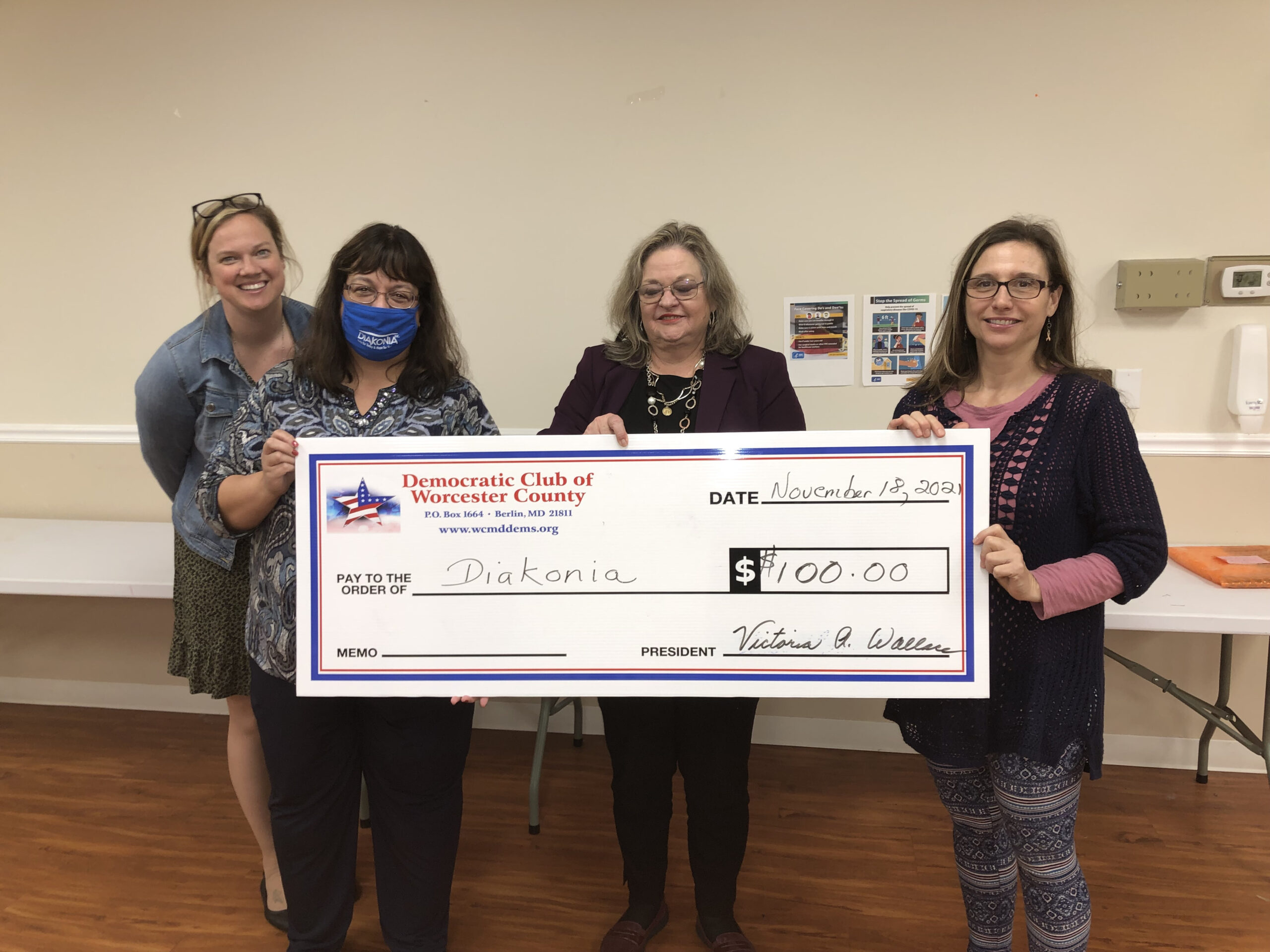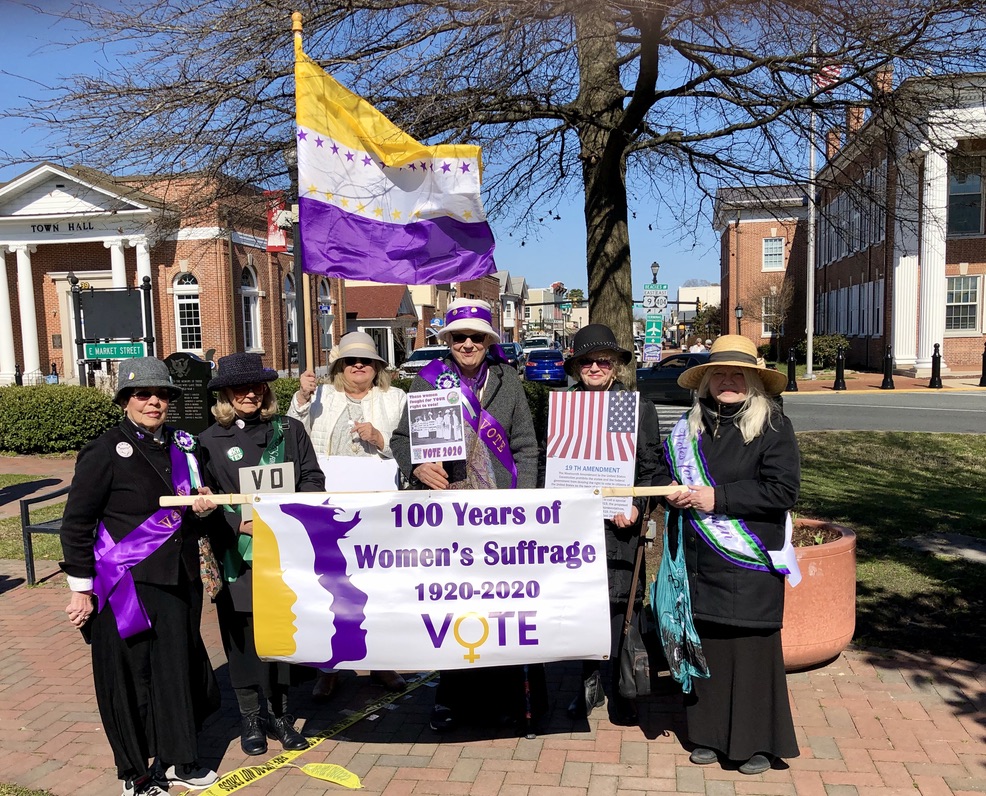 International Women's Day and the Suffrage Centennial were celebrated at the Georgetown Circle in Georgetown, DE on Sunday, March 8, 2020. The event was sponsored by the Freeman Foundation and was attended by many, including these members of the 100SA group. L-R Linda Linzey, Co-Chair; Joy Braun; Vicky Wallace; Susan Buyer, Co-Chair; Sue Fox; and Debbie Gousha.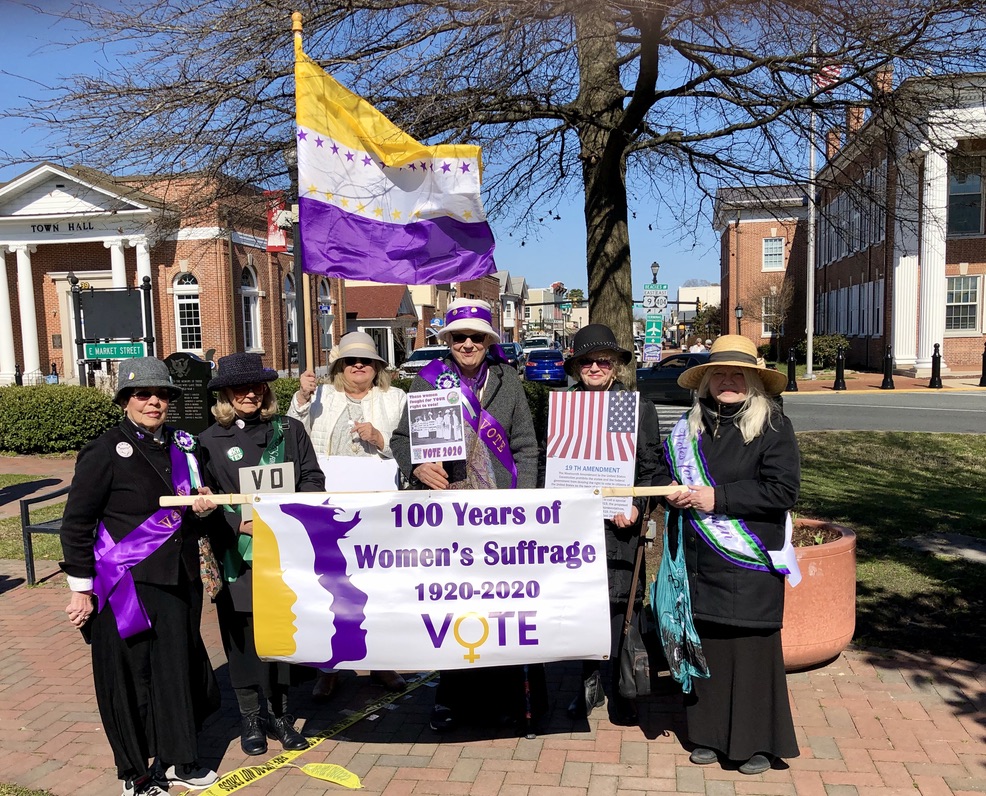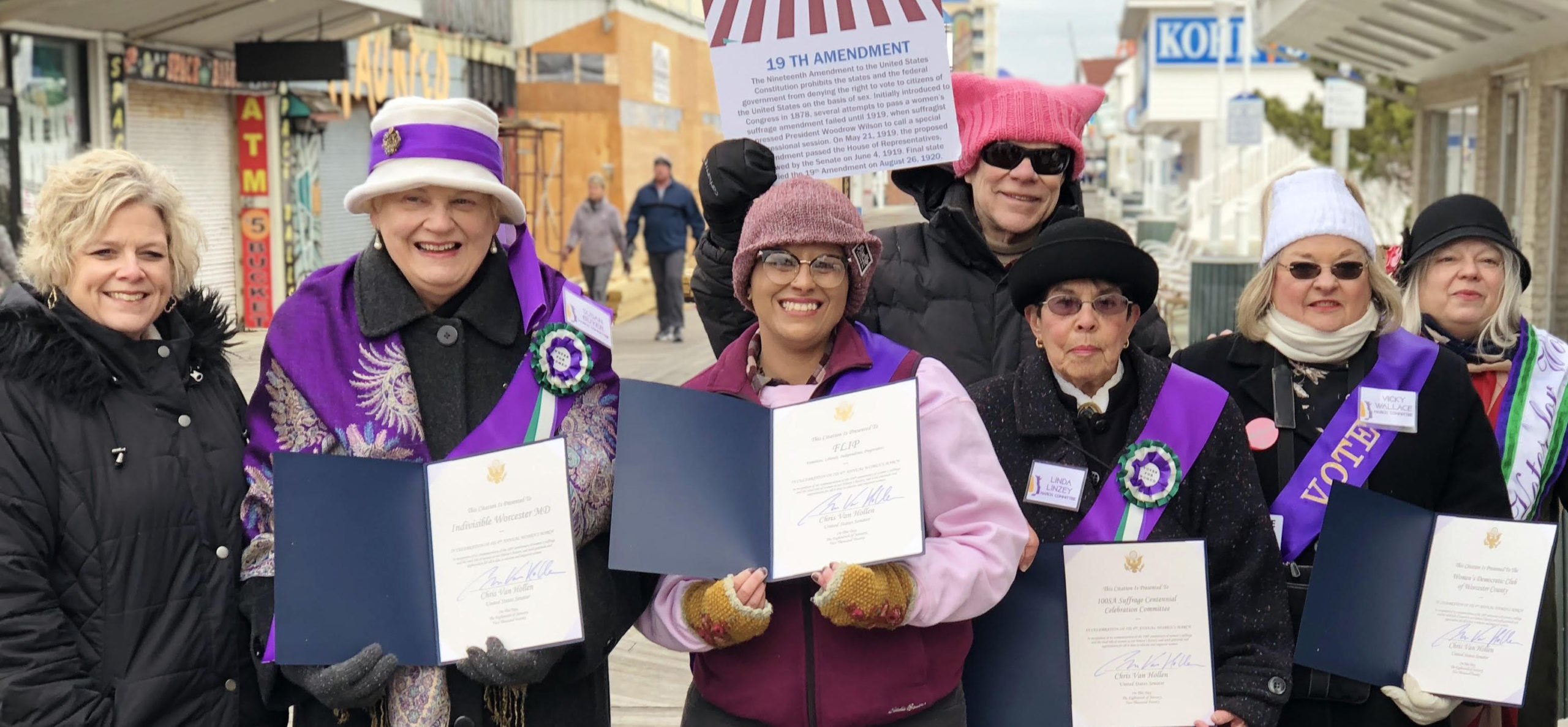 Left to right are Melissa Kelly, Representing Senator Chris Van Hollen, followed by March Organizers Susan Buyer, Indivisible Worcester; Rosie Bean, FLIP; Toby Perkins, Indivisible Worcester; Linda Linzey, The Suffrage Centennial Celebration Committee; Vicky Wallace, The Democratic Women's
Club of Worcester County; Debbie Gousha, The Suffrage Centennial Celebration Committee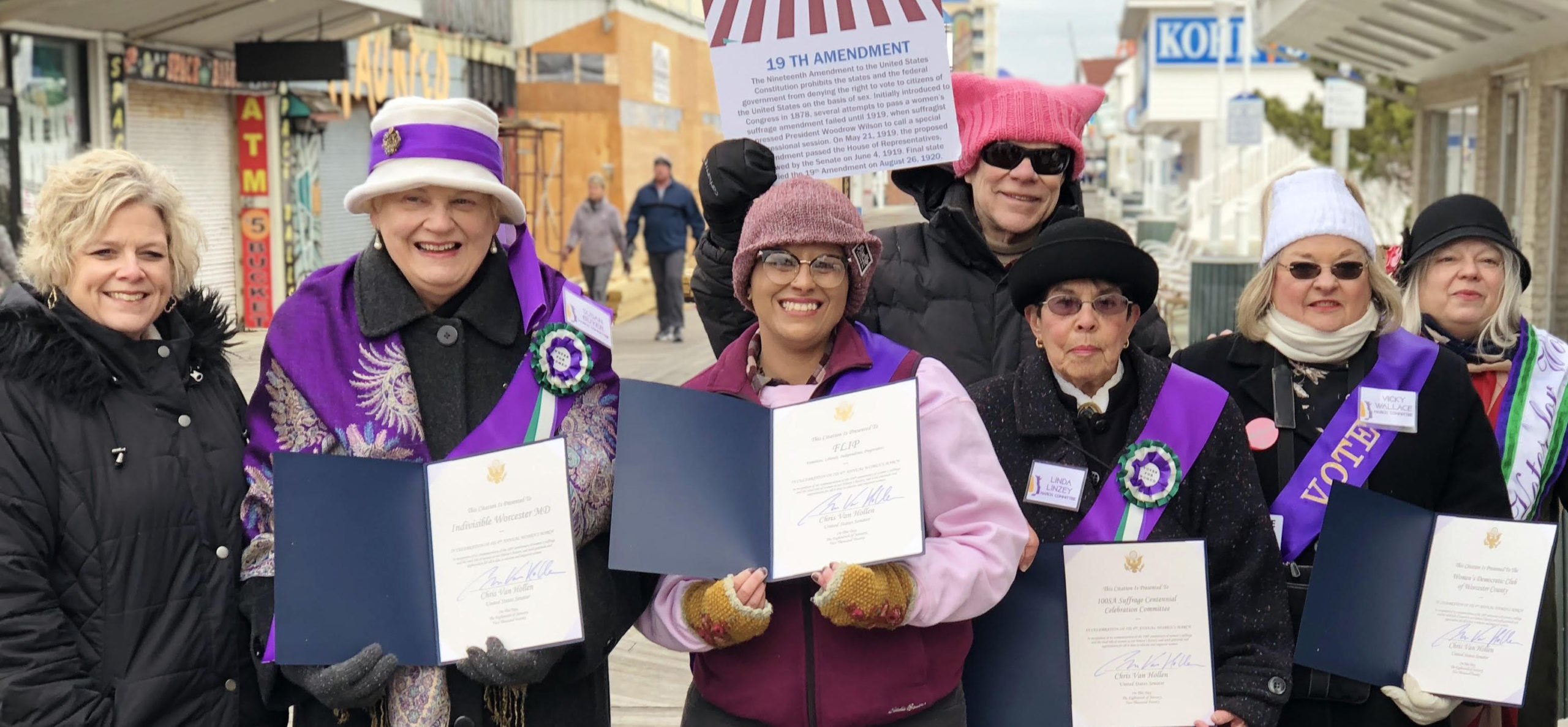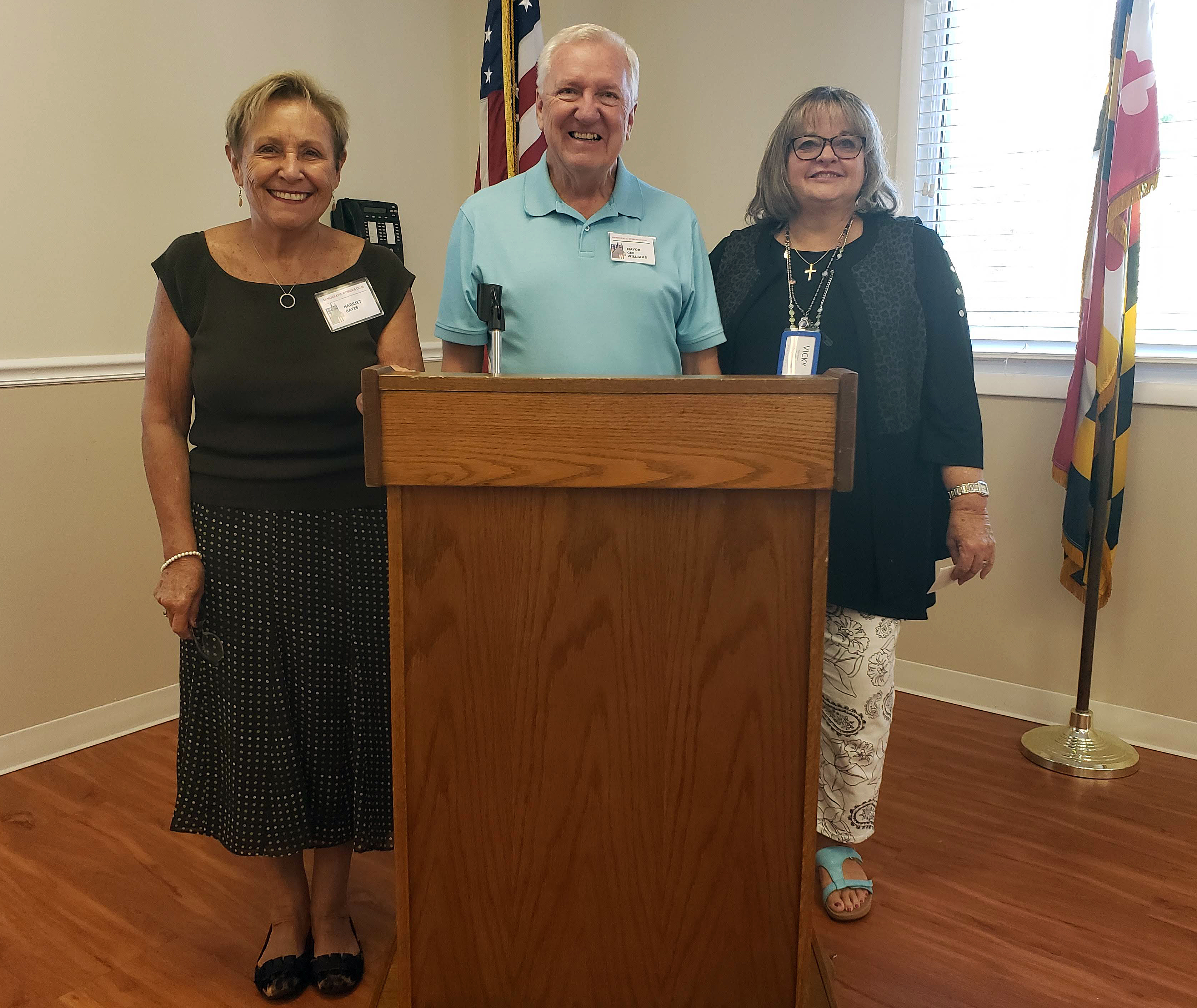 Gee Williams, Mayor of Berlin, spoke to the Democratic Women's Club of Worcester County at the club's September meeting.  Mayor Williams spoke on environmental issues affecting Berlin and Worcester County.  Shown L - R :  Harriet Batis, DWC Co-Vice-President; Mayor Williams; and Vicky Wallace, DWC President.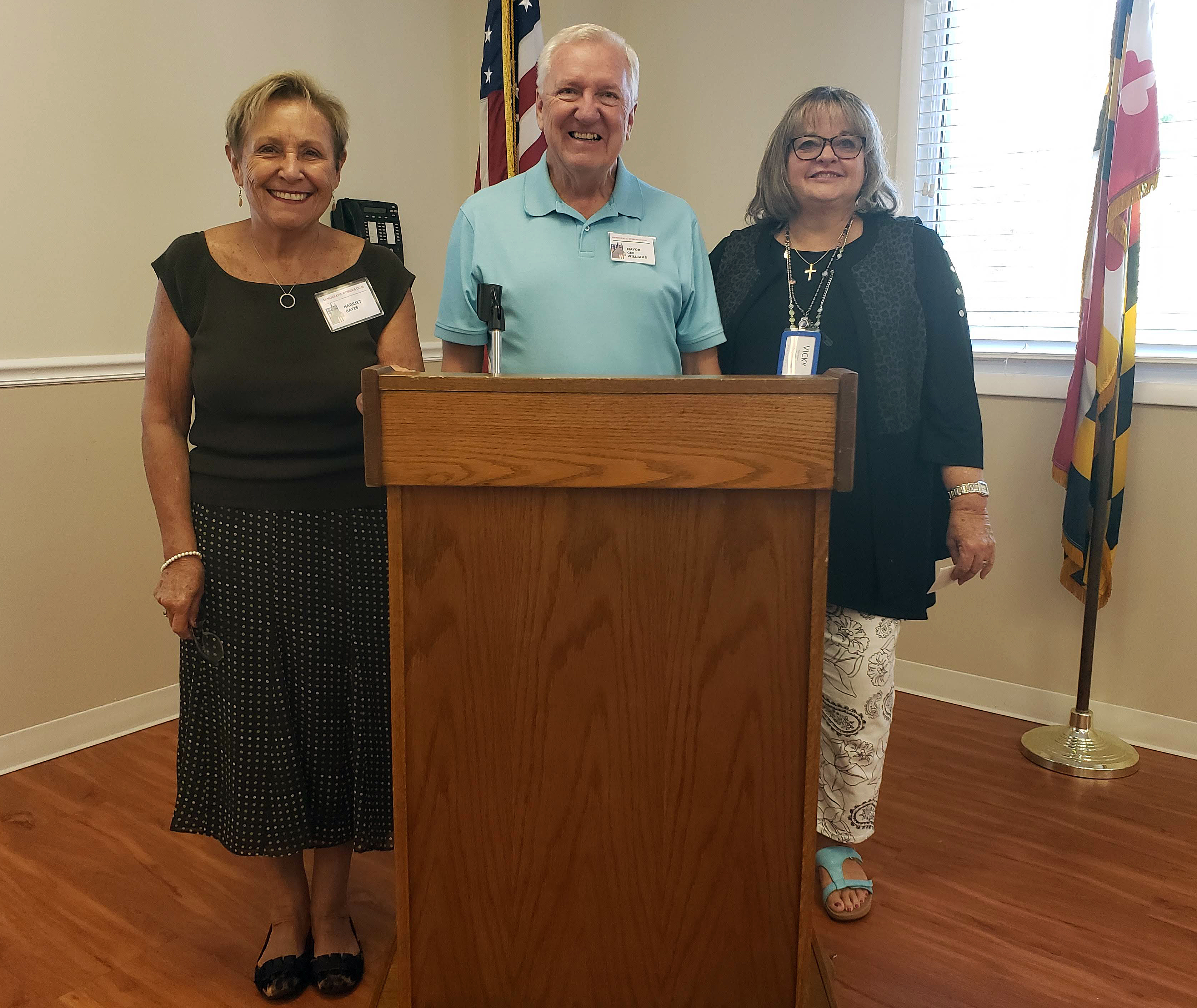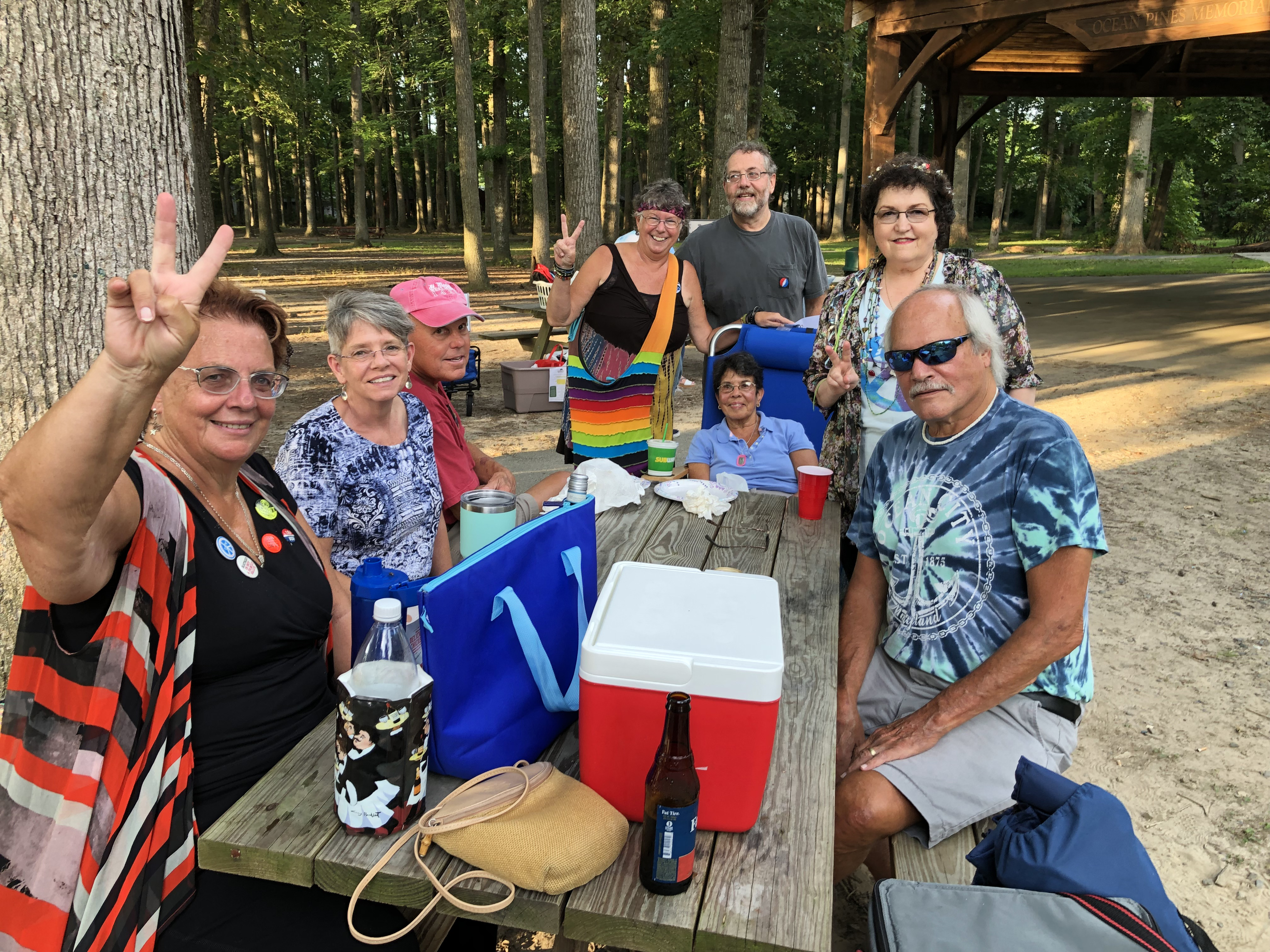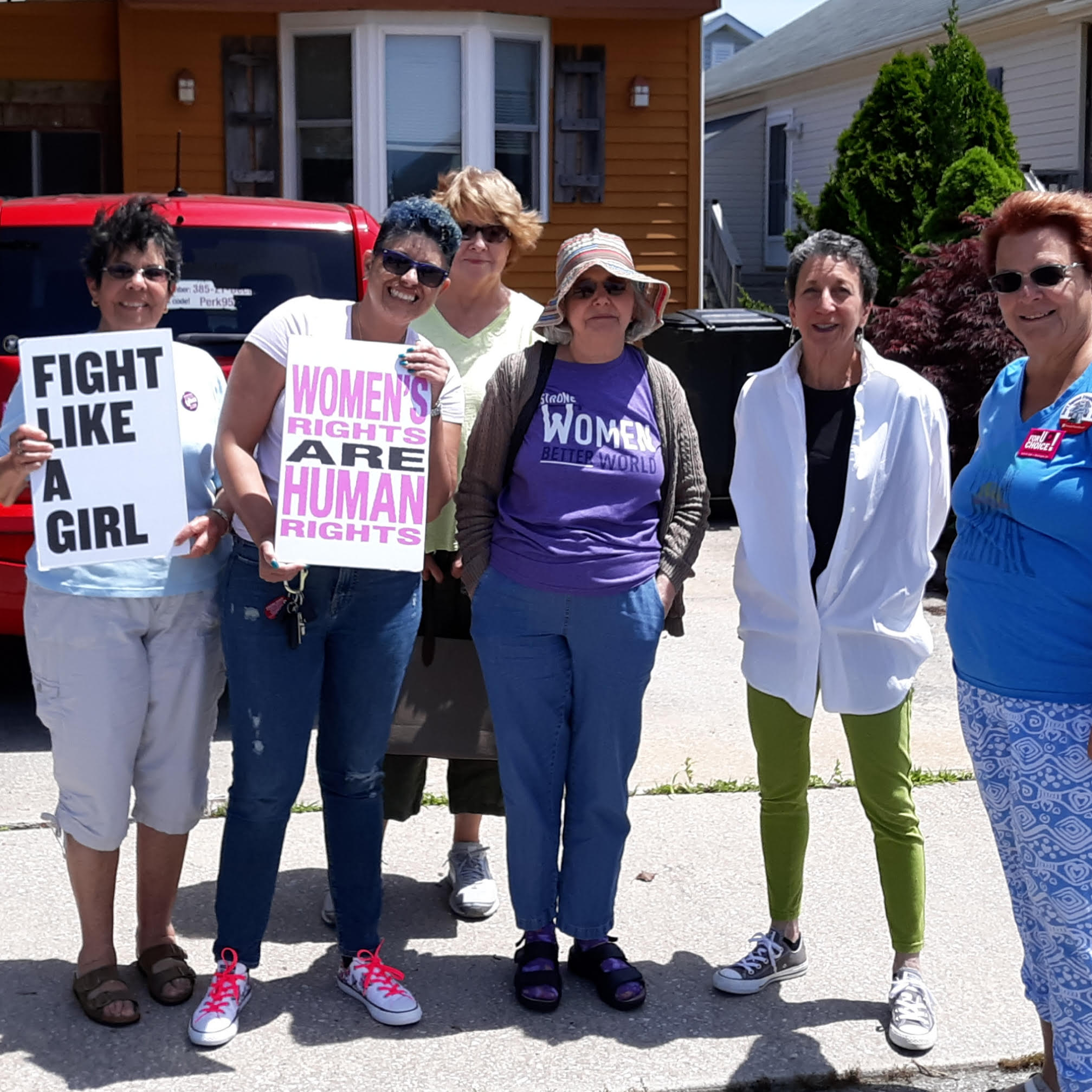 Stop The Bans
Planned protest against the recent bans on abortion rights held in the Montego Bay Community.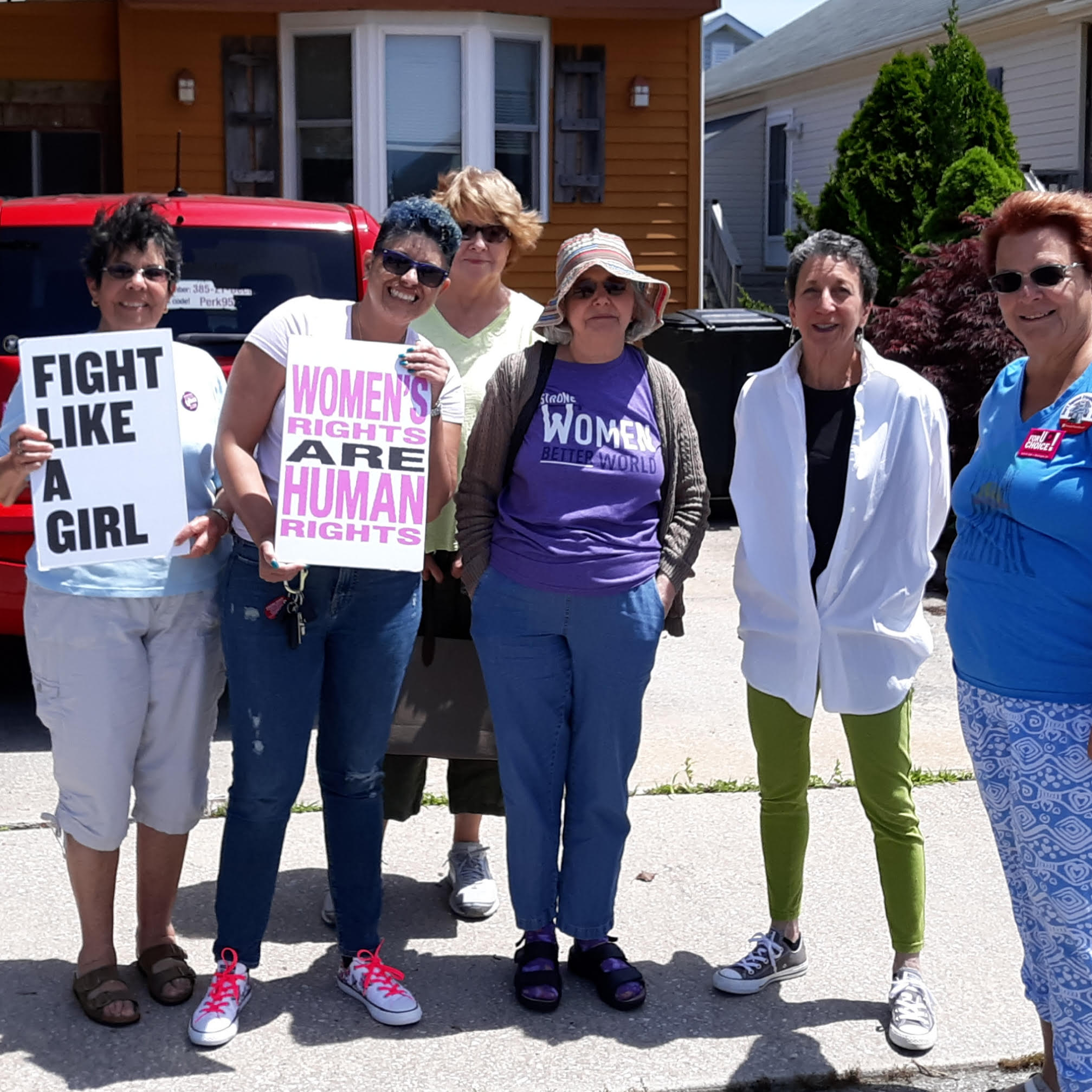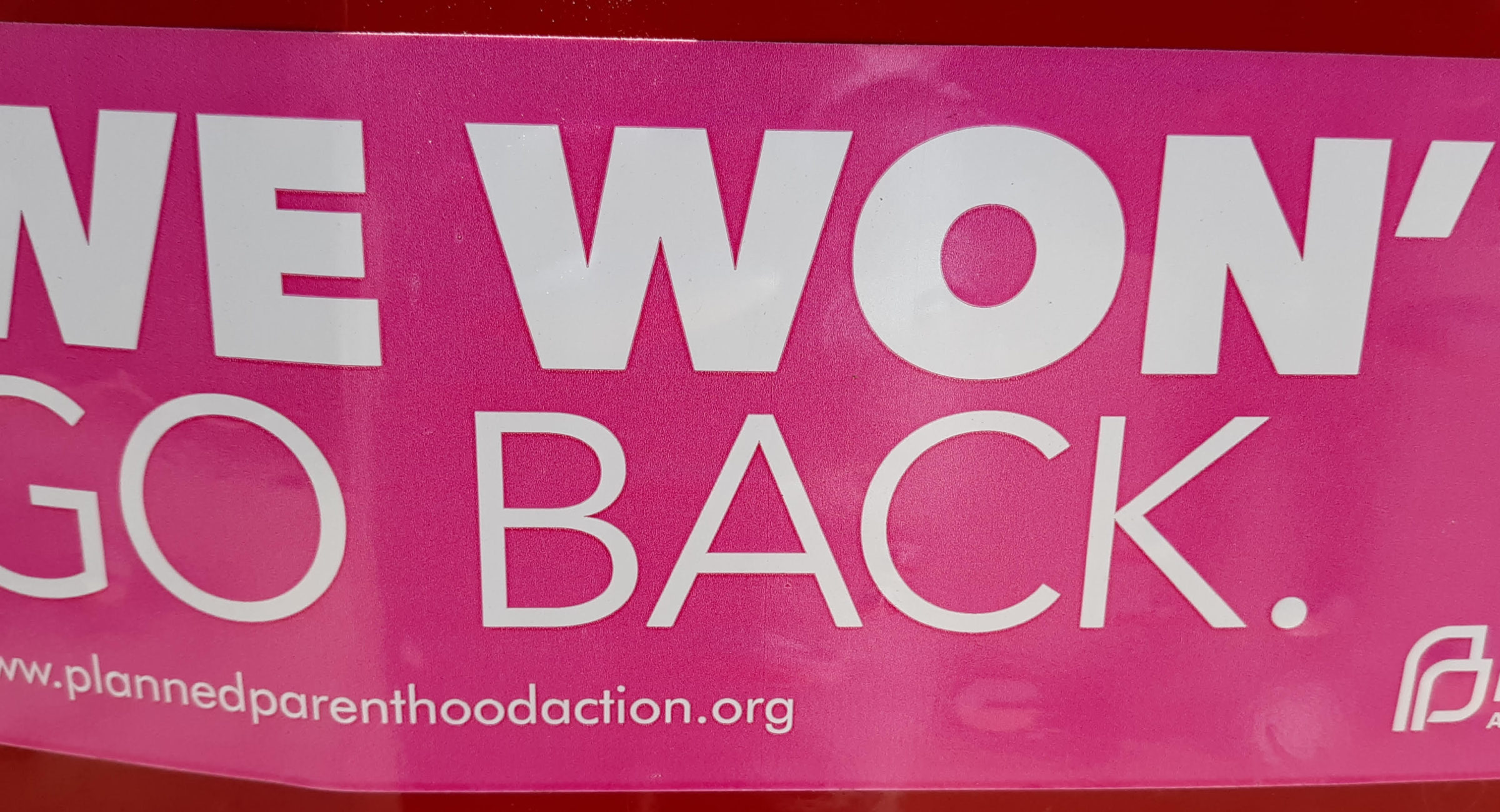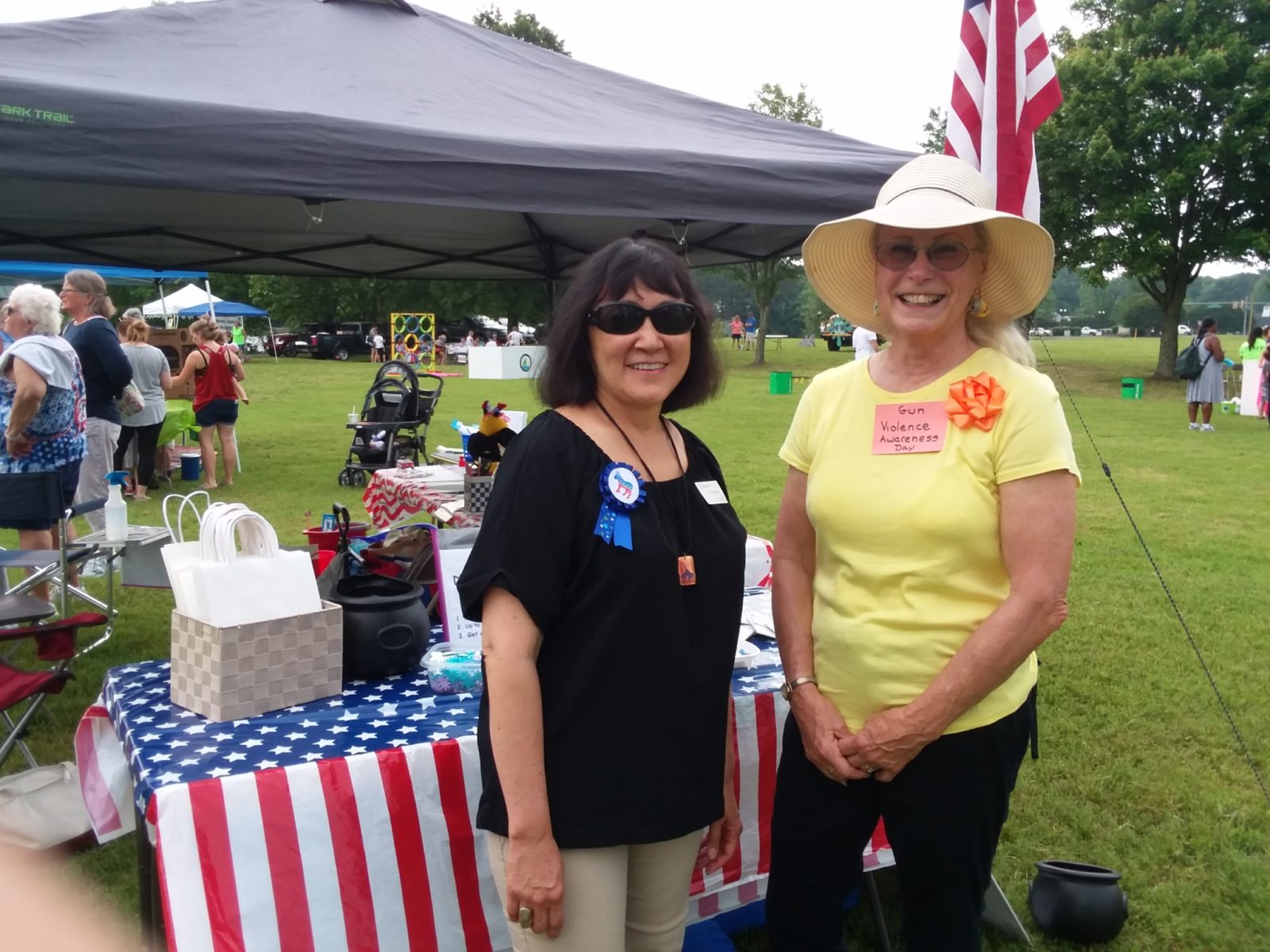 50th Anniversary Family Fun Day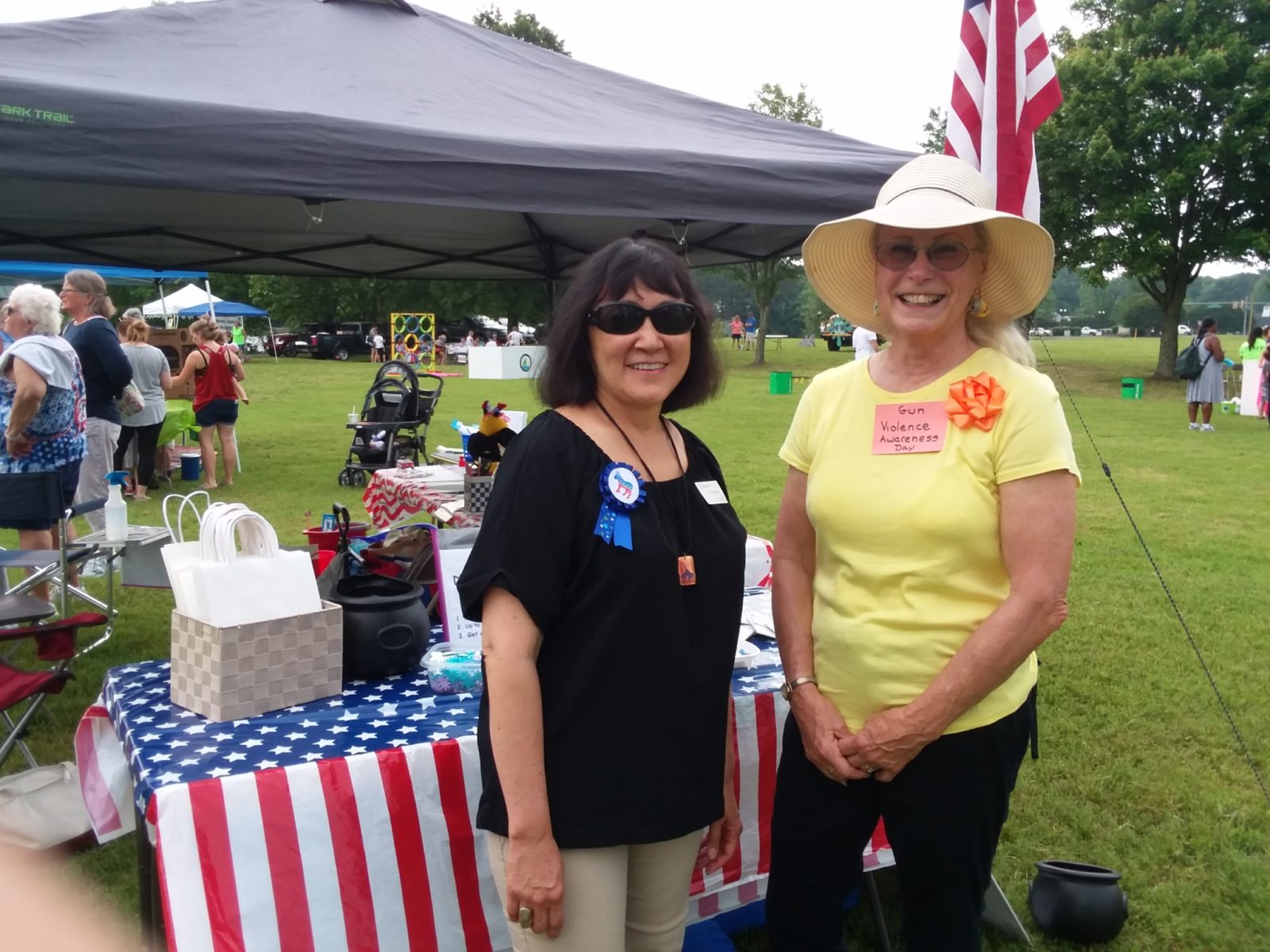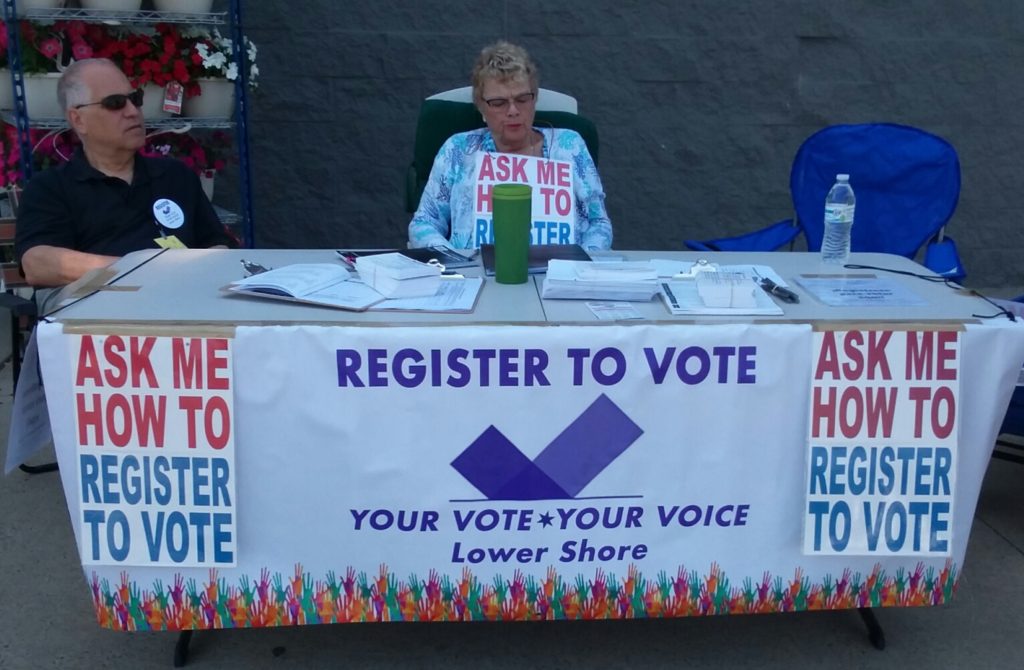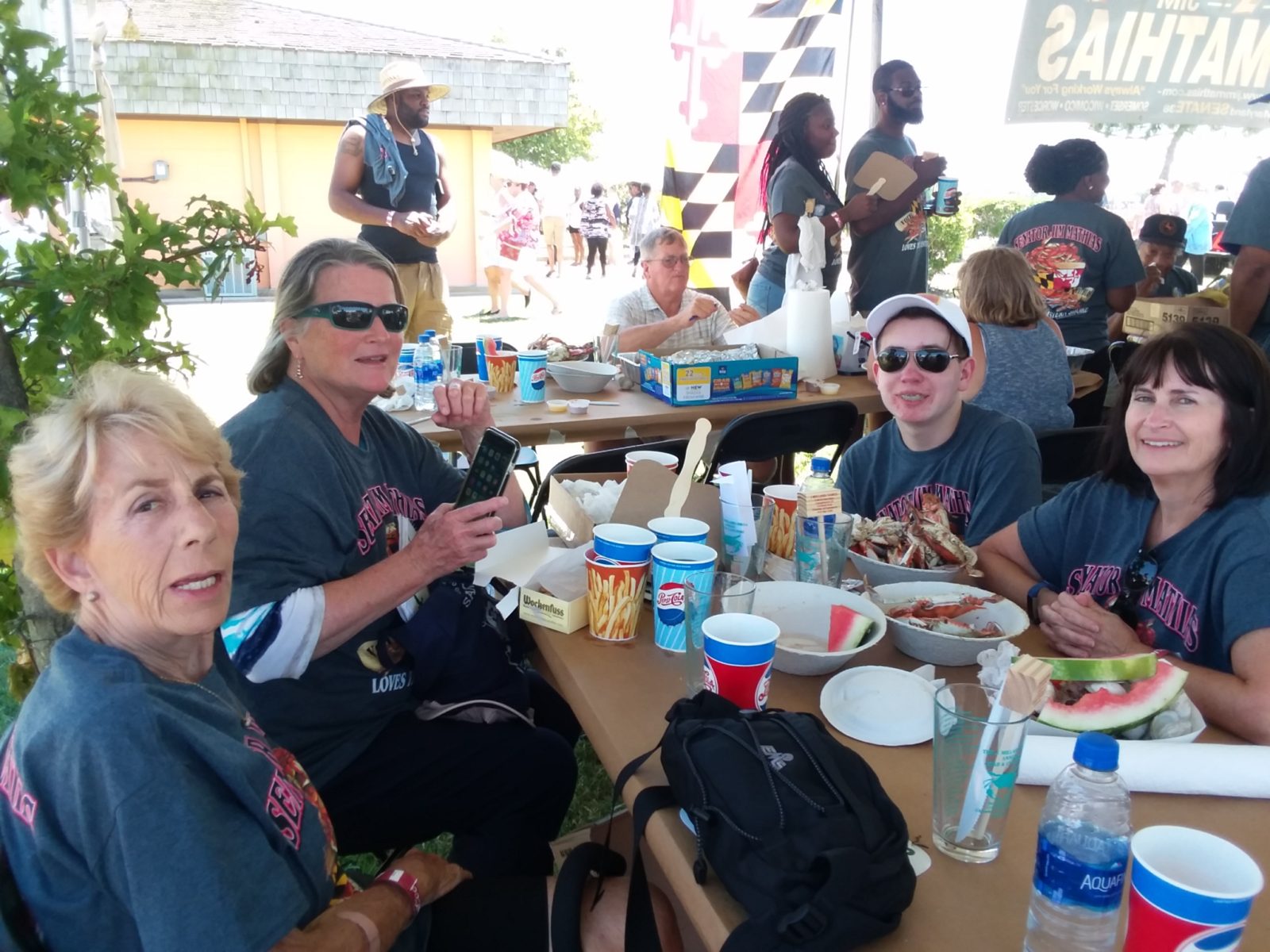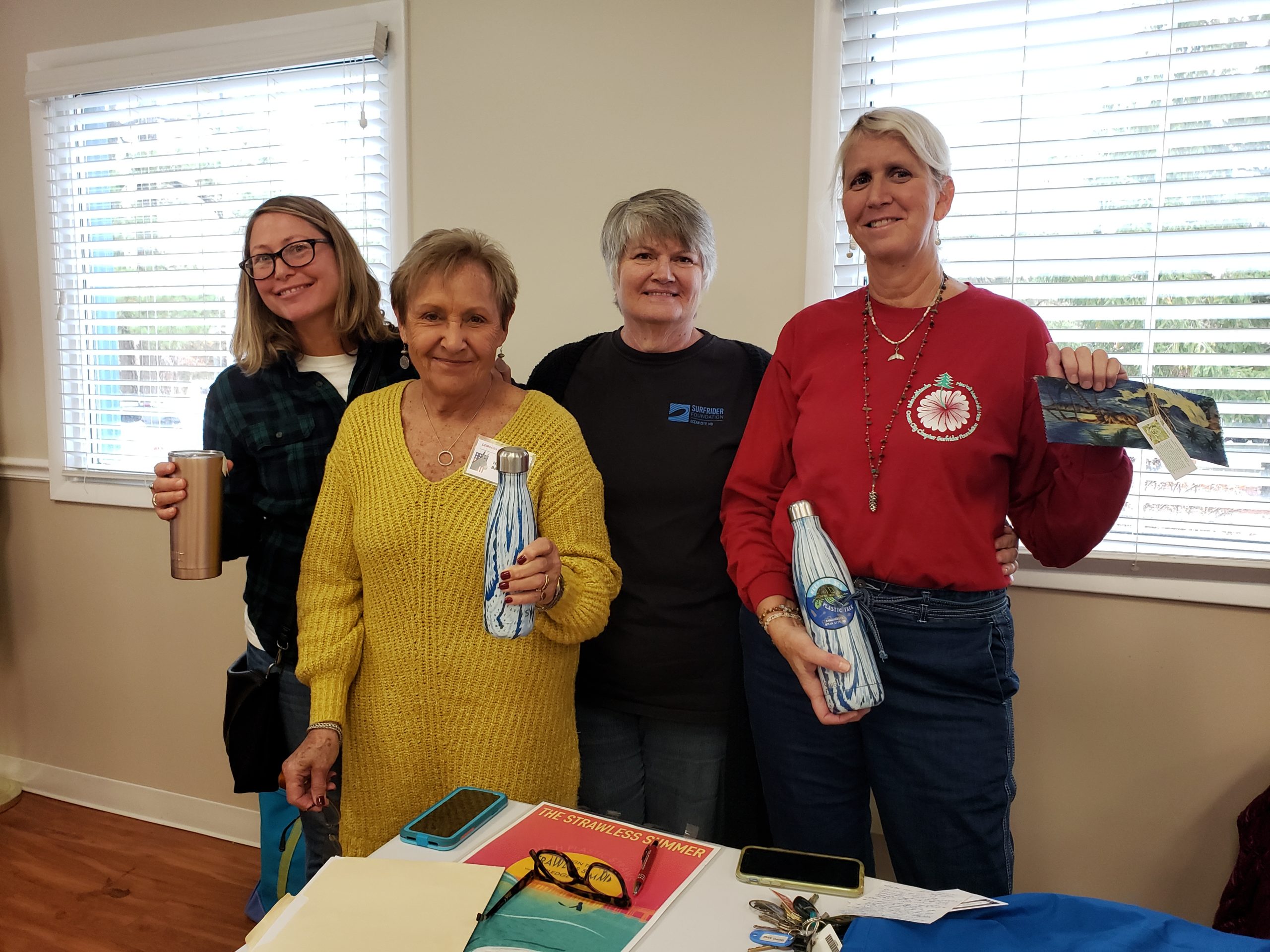 Surfrider Foundation Presentation
Surfrider Foundation's Jane Robinson and Leah Fuller with volunteer Bonnie Preziosi and DWC VP Harriet Batis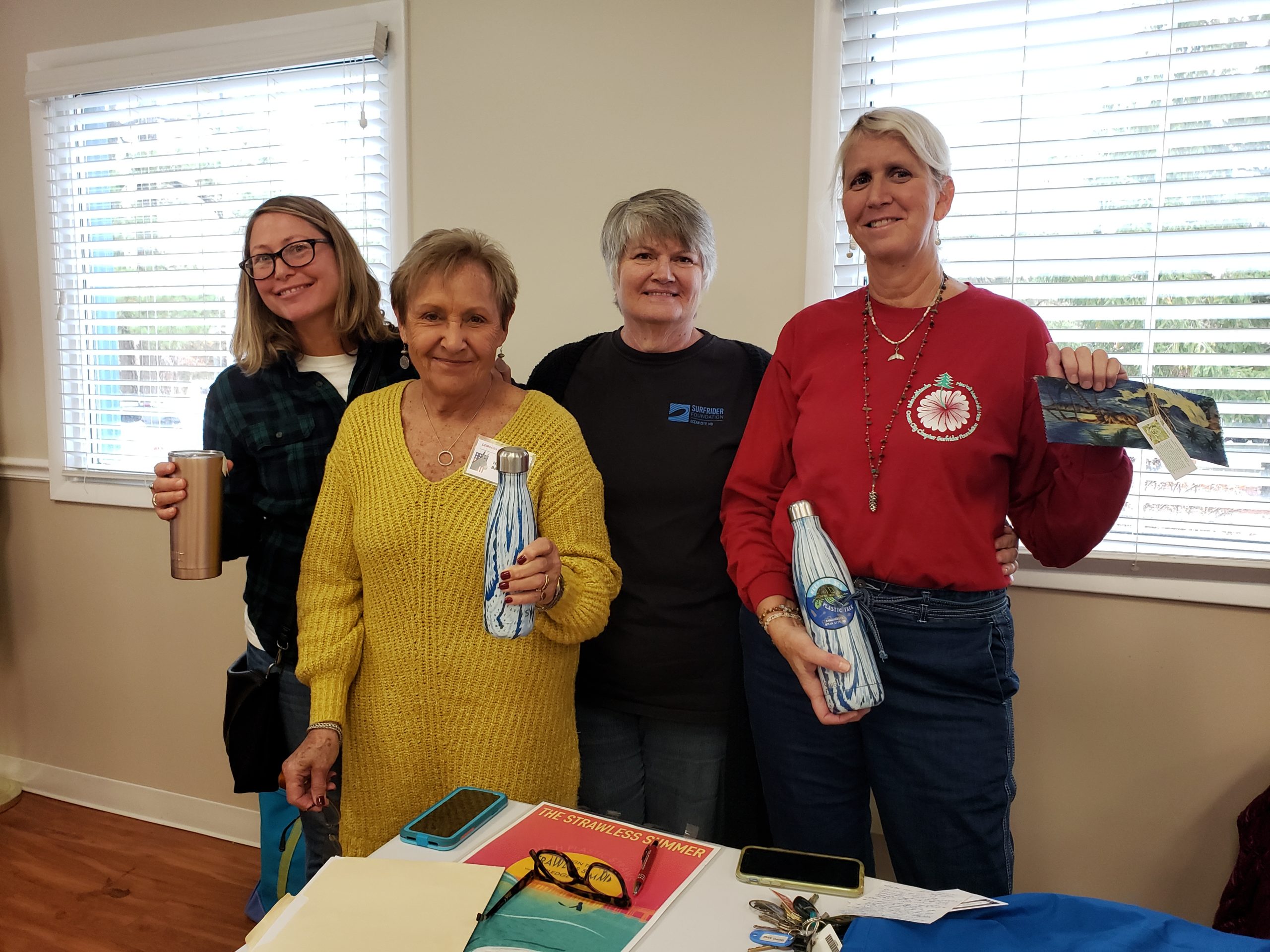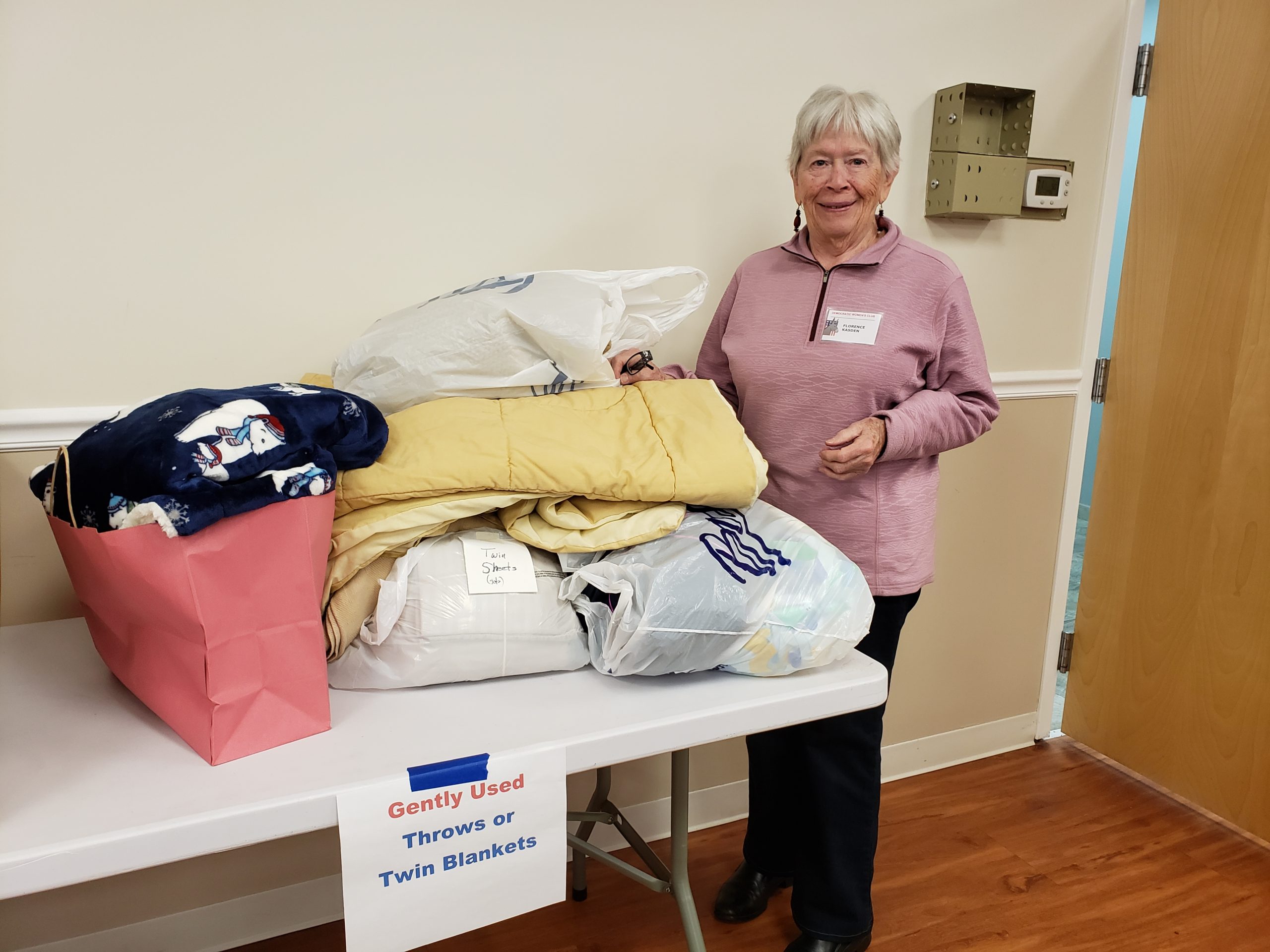 Flo Krasden Collecting for Joseph's House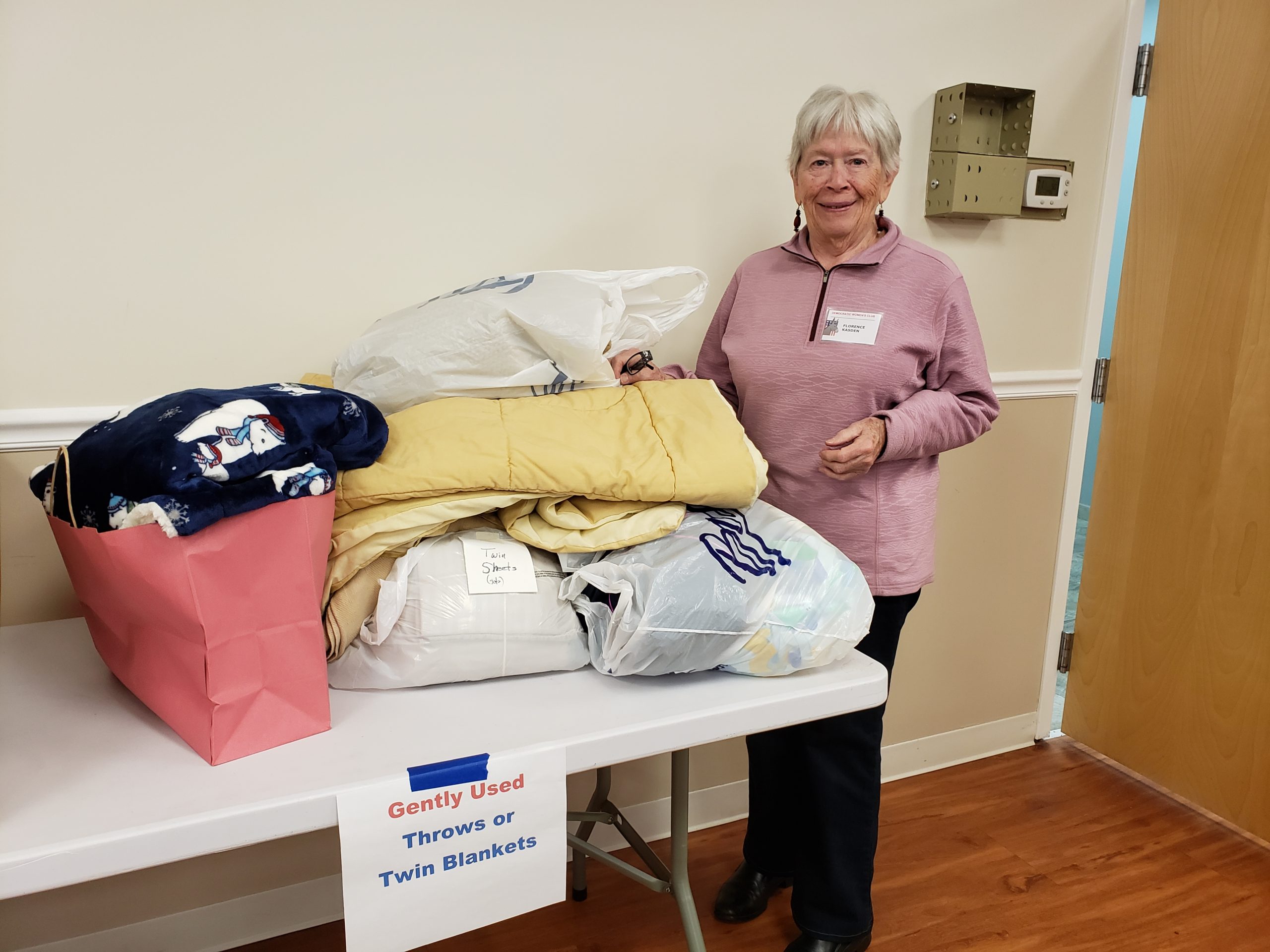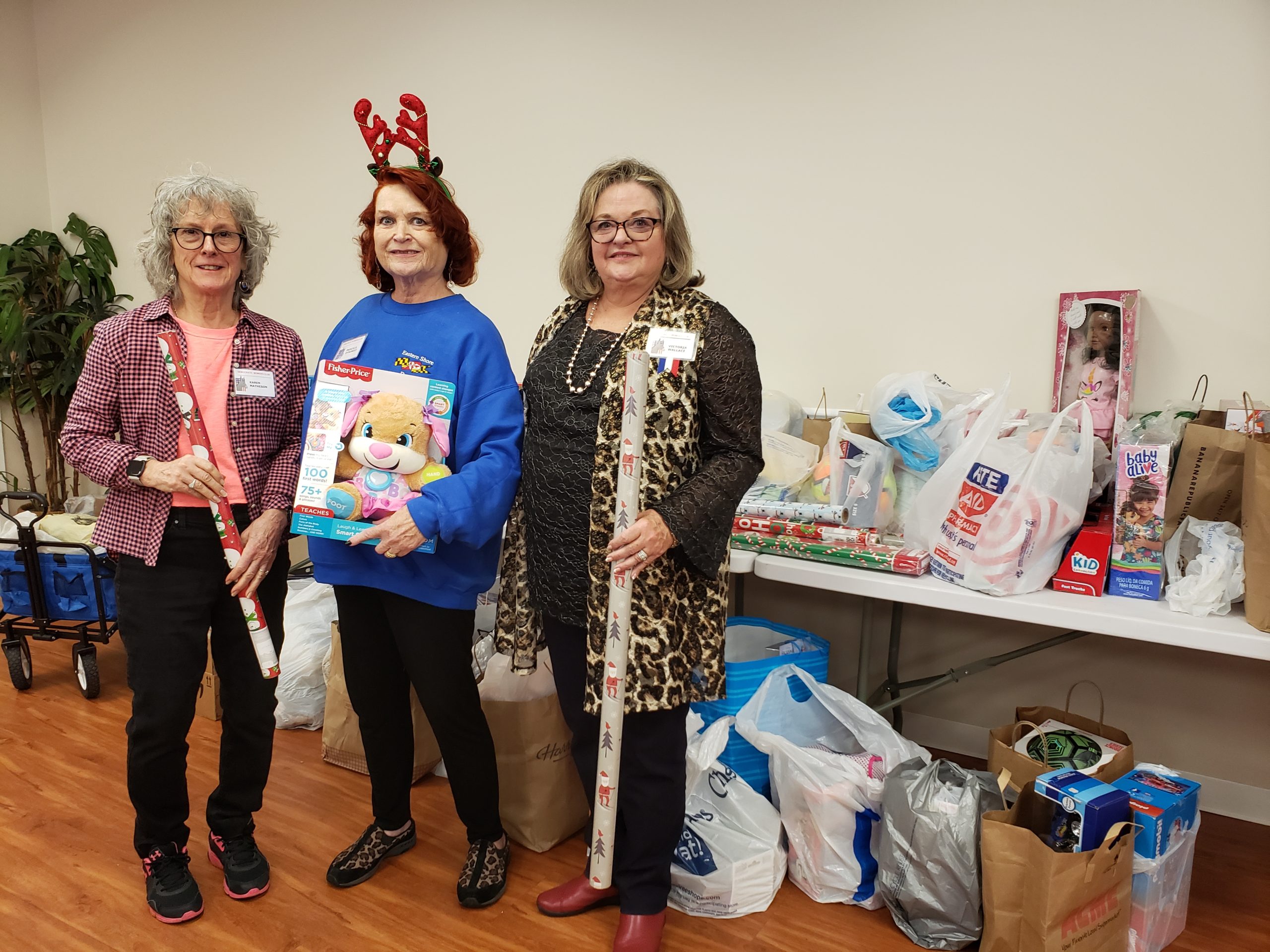 Santa Sacks
Karen Matheson, Priscilla Zytkowicz, and Vicky Wallace Collecting for Santa Sacks for the Worcester County Detention Center detainees to provide Christmas gifts for their children.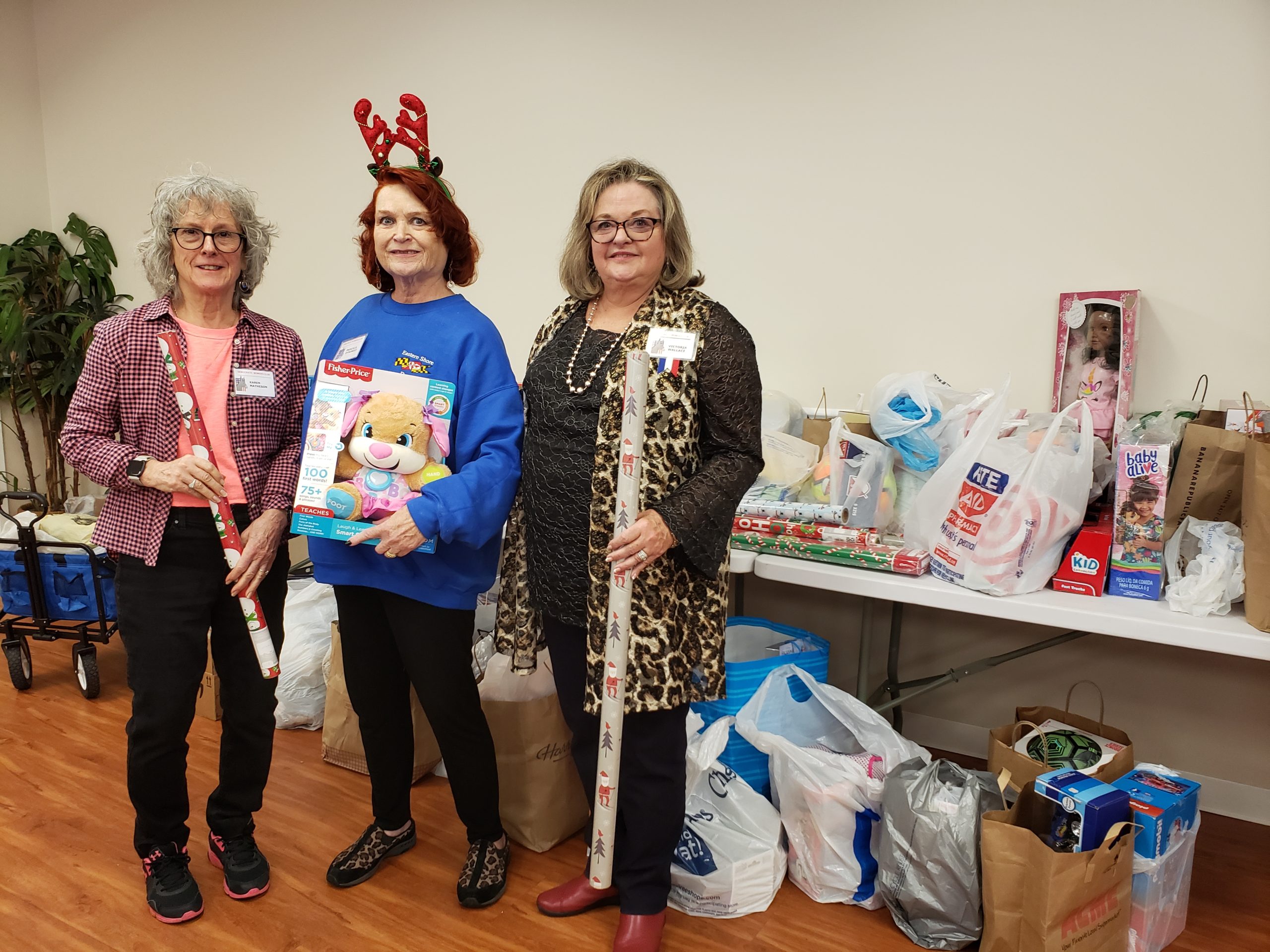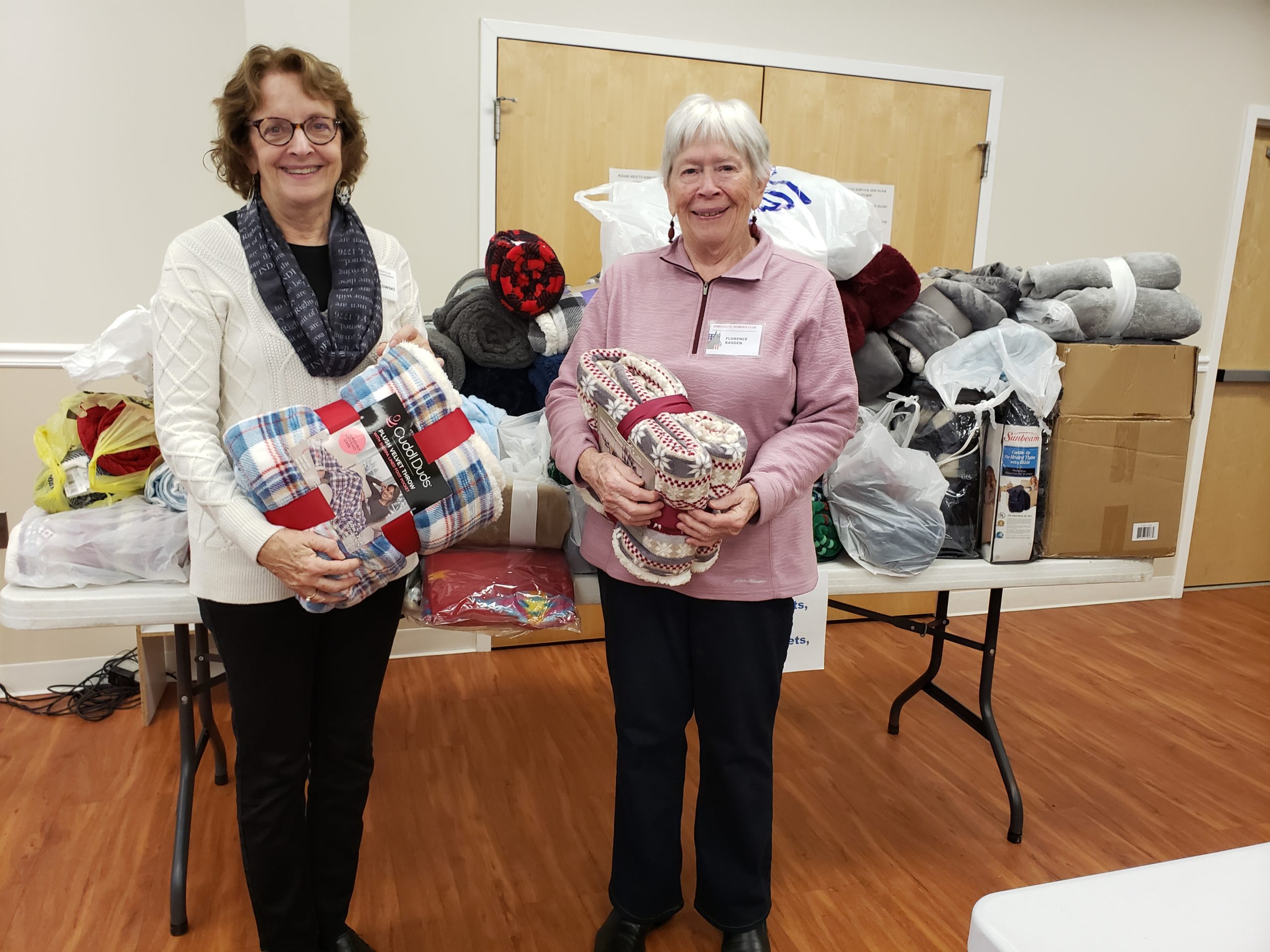 Coastal Hospice
Gail Jankowski and Flo Krasden Collecting for Coastal Hospice and Worcester County Committee on Aging November 18, 2019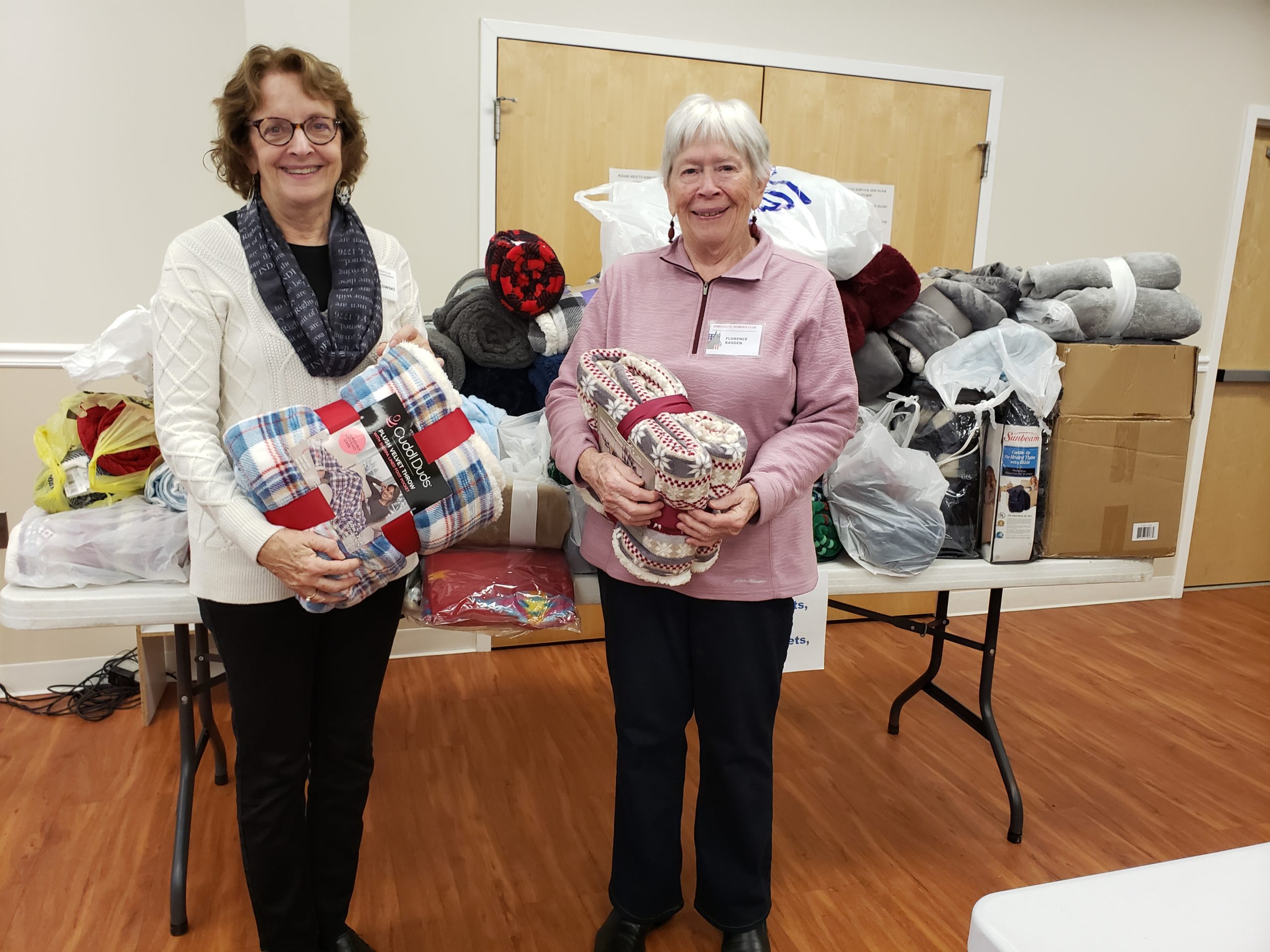 Upcoming Events
View upcoming events for Worcester County Democrats.